Lab Accounts Availability
Available for:
Undergraduate students currently enrolled in a Social Sciences course
Graduate students within the Social Sciences Division
Extension students enrolled in a Social Sciences course who can show verification of enrollment
Any student in a Social Sciences major
Your lab account is for your use only. Please do not share it with other people. Lab rules must be followed at all times. Lab accounts must be renewed every quarter. Please review the lab policies for more information.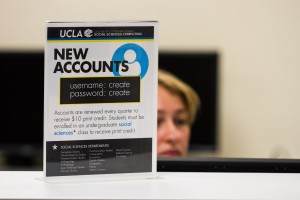 Lab accounts can be created by presenting your Student ID or a picture ID to a lab consultant at the Front Desk.Accounts are created automatically for students who are enrolled in a class that is using the labs for the quarter. Login directions are provided by the Front Desk Consultants and are available on each computer screen.
Your login ID is the first letter of your first and last name combined with the last six numbers of your UCLA University ID number. For example, Joe Bruin with Student ID 123456789 will become JB456789. Your temporary password is joebruin. You will be prompted to change your password upon logging in the first time.
Forgotten passwords can be reset by any Front Desk Consultant. Lab accounts must be renewed every quarter. Any print credit from a previous quarter can be transferred by notifying a consultant. For a description of our print costs, click here.
SSC can provide accounts for faculty at their respective departments. Please contact your department manager or the Support Desk for further information.